SWIMMING
There are fewer drills in this weeks session than normal as we're concentrating on doing split 200m swims at speed. The kick sets should be done on your side, 2 changing sides every length and 2 changing after either every breath or every 8 kicks. Try to make sure your body doesn't move when your head does to breathe and your head doesn't move when your body changes sides.
The 5, 10 and 15 second rests in the split 200's should give you enough time to slightly recover from your added effort. Due to that erst you should be able to hold a slightly higher pace than your normal race pace. Try to maintain that pace throughout the set (all done twice).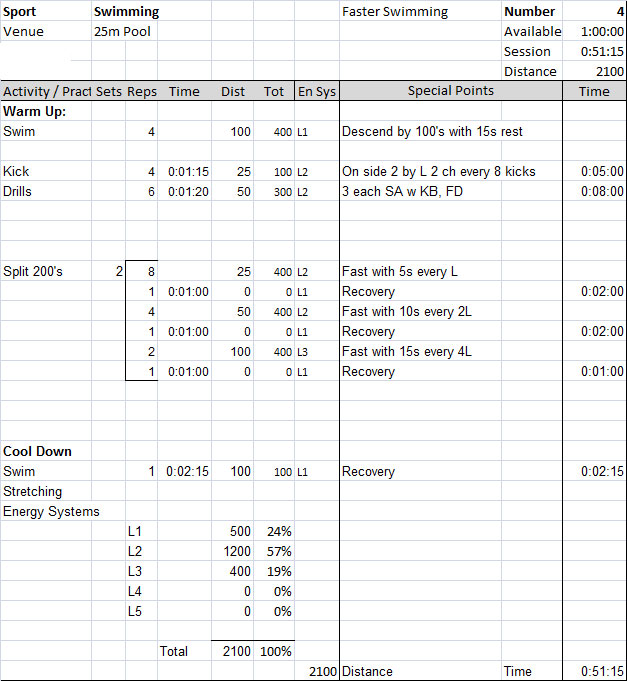 CYCLING
Simulating hill climbing is great way to improve your ability to go uphill in races. This set mixes in and out of saddle efforts, so your legs get a really good work out. If you can try to maintain your cadence throughout the set and the 6 rounds will get progressively harder as you go through.
The sprints are done when your legs are already tired so they will begin to burn fairly early in the set. Make sure you're sprinting against some resistance and your cadence goes up to around 120 rpm. 30s on and 30s off x 6 is followed by an 800m run, so you should have tired legs. This replicates your races really well - so the more you do of this the better prepared you'll be to race.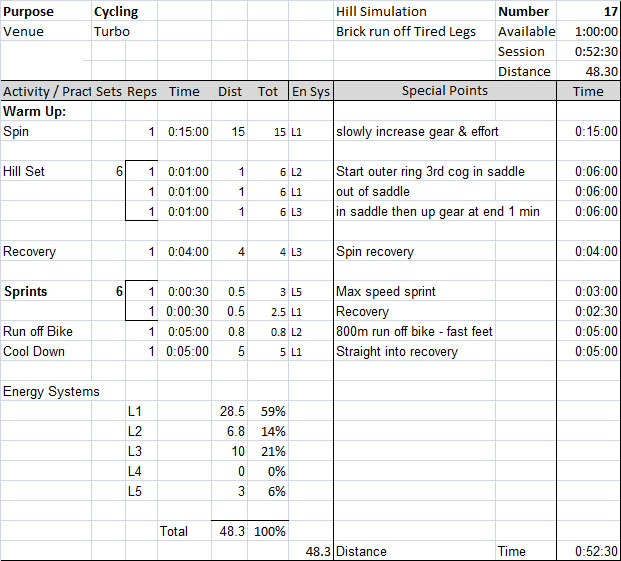 RUNNING
Uphill running can be done in 2 ways. Either you choose a long hill and repeat that a number of times at just above your threshold pace or you choose a much shorter section and run well above your threshold pace. This session is aimed solely at the latter type of running.
Choose a 50m to 100m sharp uphill section that is easily repeatable. Run up the hill at your maximum speed the first time and record your time. Continue on walking or lightly jogging for about 100m and then walk or jog back to your start point. Repeat the same run when your heart rate slows to 100 bpm.
If your time reaches the original time + 20% then stop the session and return home, otherwise do the 6 repeats.