SWIMMING
This week is effectively the reverse of last weeks set, doing split 400's starting with the 200's instead of the 50's. Again try to maintain a good pace throughout and swim the 200's at above your triathlon race pace.
Again we finish with some really fast 1/2 L sprints to get a feel for real speed.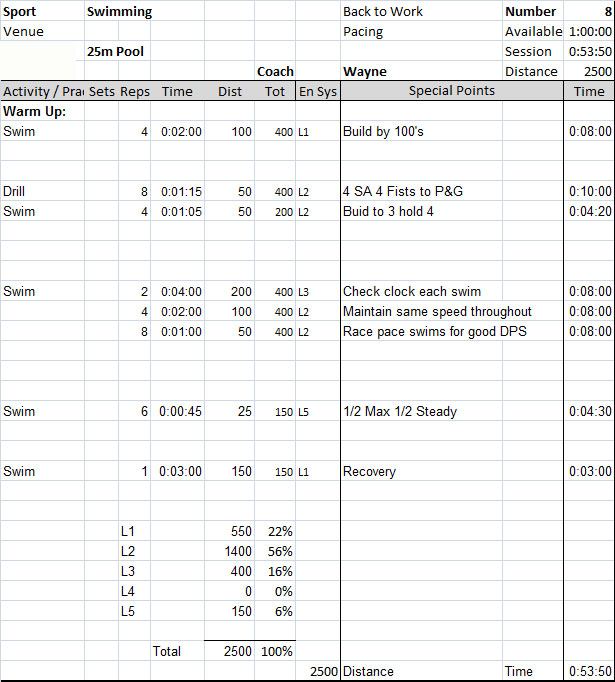 CYCLING
Throughout race season you should be testing your running off the bike and this session does that twice in the session.
After a good warm up there's a 7.30 min real effort, race gearing plus 1 cog, followed by a high cadence spin - meant to ease your legs for the run, flushing blood out of your quads. Then run for 3 minutes to 5 minutes (between 800m and 1k). Get back on the bike for a recovery spin of 2 mins and then do a longer cycle of 12.30 mins and the same high cadence spin and run. If you're a longer distance athlete or have more time then repeat the 7.30 cycle leg to add time and effort.
RUNNING
In this session we're playing with speed.
After a good warm up and drills where you skip double and single hops to get your elastic tissues aiding your running and making you more efficient, we're into various 800m runs. The steady paced run should be at your 5k race pace and then the negative split should be 400 done at that pace followed by a hard 400m at your fastest possible cruising pace. You will need the recovery if you do these at the right intensity.
Extend the number of repeats if you want a longer workout.