SWIMMING
At various times throughout the season you should complete a test. This week we're testing you with a 200m time trial. Before that you do a good warm up and a little recovery swim - just to prepare you to make a real effort on the 200m swim.
After another recovery you test your ability to hold your race pace over split 200m swims. 2 x 100m, 4 x 50m and 8 x 25m are all done on a reasonably long time frame so you should be able to maintain that pace throughout. It all ends with 2 sets of 4 x 25m swims doing 1/2 L absolutely flat out and 1/2 L easy.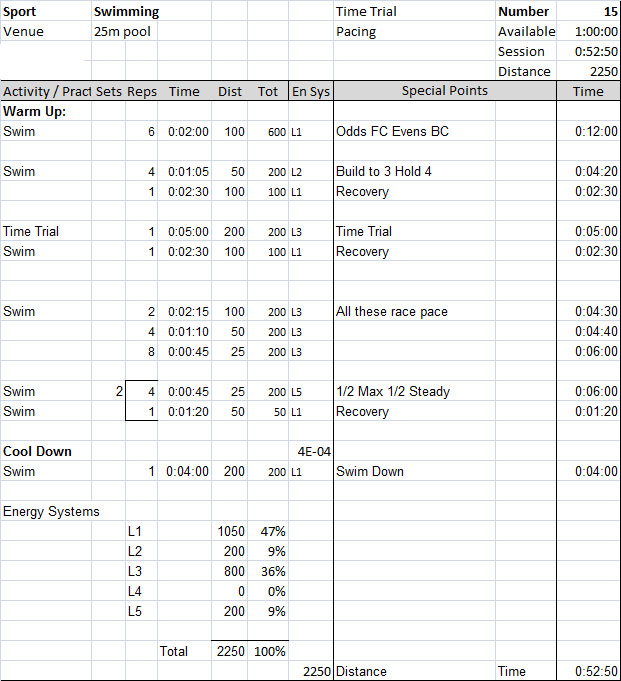 CYCLING
After a good warm up this weeks session goes into Sprinting Mode. The aim is to get you building and flushing away lactate - attempting to give your physiology a boost in flushing lactate in races. Following that the aim is to replicate your race position and race effort, with a short spin out after 15 minutes. Maintaining your race position is extremely important especially for long distance athletes, by practicing remaining aero for a considerable time you are far more likely to remain aero in your races.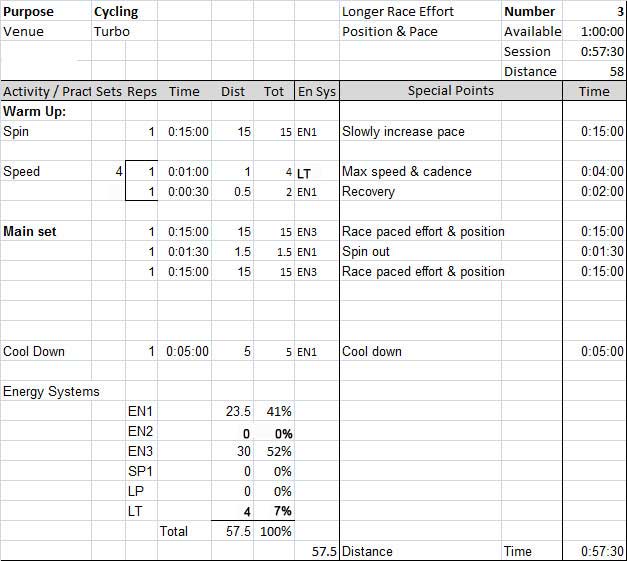 RUNNING
Steady state runs where you maintain a good pace are bread and butter runs to a triathlete. Knowing the pace you're running at is hugely important. You can either judge this by your sense of Perceived Exertion, using a Heart Rate Monitor or using a speed device, aiming to maintain a certain pace (if the terrain is even). The first two tend to be more accurate but whichever you use take your time for each 2k run - your aim is to match each run to the first time, so don't go off too fast or you will pay for that speed later on.